May 10, 2022
To All Razor Promoters, Agents and Fans
Hello Everyone,
It is not easy to write this email, but I have no other choice any longer.
The current situation with my wife has now become critical. Her final chemotherapy treatments have not been working and she is now dealing with advanced cancer in her liver and lymph nodes. Without further treatment, we will lose her.
We still have a couple of options left to try and stop the progression of the cancer, but time is running out. The remaining options are time consuming and costly, but there is still a chance that they can be successful. There will be a tremendous amount of effort and energy required to try and save her and I will have to be in the middle of all of it so it can have the best chance to work.
I have been married to this lady for 24 years (as of May 16), we have an autistic son (grown up now – 23 years old) and a daughter with Borderline Personality Disorder (a very tough mental health condition!), she is 21. These kids still depend heavily on their mother, as do I. So it goes without saying that my priority is clear, nothing is more important to me than taking care of my wife right now.
Reluctantly, sadly, but without choice, I have to withdraw Razor from all overseas shows that were to take place this year up to and including October 2022. The shows in November (England and Sweden) can still go forward as of now and will likely not have to be cancelled. But all other overseas shows are not an option for me anymore. I am very sorry for this but I could not tell you any sooner because until recently, we fully expected to play these shows. It was only with the news from Rose's most recent CT scan (continuing to deteriorate) that this decision was forced on us.
This is a very unfortunate situation, especially since our new album, Cycle of Contempt will be going through a big launch this year. I hope that we can still do these events next year in 2023. In the meantime, Cycle will be there for you. Please support us and buy it when it comes out! You won't be disappointed. So in summary, please advise all affected parties that due to this tragic situation, Razor will not be available until November 2022.
I will not take any new bookings until I know for certain what Rose's final outcome will be after treatment, so probably not until late 2022.
Please let Mike know if you have any questions. Please visit www.razorband.com for contact information or razordavecarlo@gmail.com . I will try to keep you updated on social media through 2022. All the best my friends.
Rose Carlo Cancer Treatment Fundraiser Link: https://www.gofundme.com/f/rose-needs-major-help-with-cancer-treatment
We will be back!
Dave Carlo
Hey Everyone, good news that the new Razor Album is complete and sent off to Relapse records. There is a bit of delay in pressing the New release as there is such a backlog from Pandemic and a bunch of new releases from other artists but should be be seeing it in early 2022!
On a more personal note Dave has had a terrible time dealing with his wife Rose's Cancer situation and is reaching out for support, here is more information from Dave himself via his You Tube Channel as well as a Go Fund me page;
 From Razor official Dave Carlo 'Trying to Save his Wife' from stage 4 of Cancer 'Beware of clinical trials' Needs to fundraise
Share the video, Prayers, watch video
https://www.youtube.com/watch?v=zJm0hBSeUok

Go Fund me page here, please support
https://gofund.me/0a6d0e13
Well my friends its been a really tough year for all mankind and especially bands and Live music !!
On a personal note, we've all but completed the New Razor album and there will be more News on that in the coming weeks !
Razor has tried to keep active but have been plagued with some unexpected health issues with some of our family members. We are determined to push thru and get out to see you Live in 2022 !!!
There have been some changes to some scheduled shows we had and others have been added , some of these due to pandemic restrictions and others related to budget and timing constraints beyond our control. Truly hoping it all comes together in 2022 and looking forward to Thrashing with all of you. Cheers !!!
More show updates set for 2022 !
Hey Everyone , hope your all hanging in there while this crazy worldwide pandemic thing slowly burns out and we can get back to the music !! 
Were starting to rebook some of our postponed shows into 2022 as there are still many unknowns surrounding the 2021 live show scene so we'll try and keep the changes up to date as best we can.
Dave Carlo has started a new Youtube channel if you want to check it out or subscribe and he will be featuring a bunch of info and insights there as well. I'll attach the links;
Also there is an upcoming book release based on the Early metal scene in Toronto featuring the bands from the 80's like Razor, Sacrifice, Slaughter..... and the list is endless.
Its called Eve of Darkness-Toronto Metal in the 1980's !! Not sure of the release date but I'll attach the Facebook link which features highlights and updates!
Hope to see you on the road again soon and stay safe , Cheers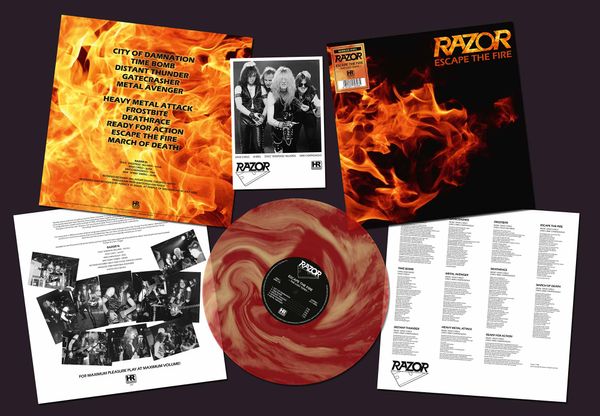 Hoping everyone is staying safe as this Covid thing rears it's ugly head once again !!!
I've posted some of the make up dates for 2021 on the shows page and as details emerge I will update accordingly.Some of the dates may change so as of know these are just forecasts of future shows.
Razor has a big announcement coming soon concerning it's affiliation with Relapse Records which should be made soon, I'll post more details as they come available.
Well I hope everyone is hanging in there and doing well, all things considered !,
Strange days indeed and our thoughts go out to anyone affected by the pandemic!
Razor is back to the studio finally to finish the recordings for the new album and things are going great,!!
As you may know we rereleased a special 35th anniversary version of Armed and Dangerous and it will be updated once more and released through Relapse records in the US very soon.
Also on the horizon is a release of the long awaited Escape the Fire album which was supposed to be our second release but was morphed into Executioners Song by our record company. We found the lost original demos from those early recording sessions and the album includes 4 unreleased tracks , all in the original sound quality. More to come...
Well it's been a while since I've posted since it's mostly been disappointing news and we've all been self isolating and dealing with this Covid-19 virus the best we can.
We all have to do our part and it involves a lot of sacrifice but we will get through this to thrash with you guys ASAP.
On the not unexpected list our shows at both Modified Ghost fest in Vancouver and Rock Hard Fest in Germany have both been postponed, I'm sure they're not the first but I'll try to keep the shows page updated as things unfold,
Stay safe and Stay Thrash !!!!!